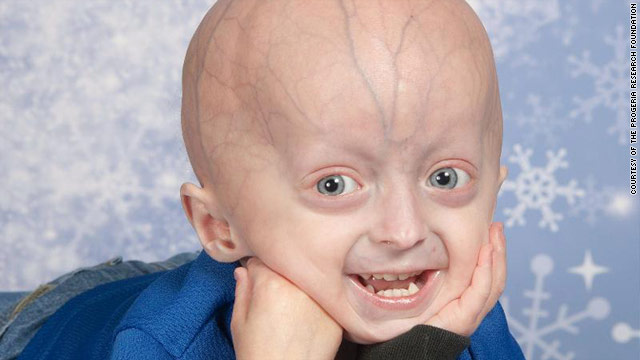 A REAL LIFE MAGAMIND DISEASE CALLED PROGERIA
Imagine being different and stared at by everyone like you are some kind of freak. Imagine also that you get diagnosed with a disease that will limit your life span to being a teenager. The worst part of this whole situation is that there is no cure for this disease yet. Check this out and read about a rare disease that you probably have never heard of before.
Progeria- ''is an extremely rare genetic condition where symptoms resembling aspects of aging are manifested at an early age. The disorder has very low incidences and occurs in an estimated 1 per 8 million live births. It is a genetic condition that occurs as a new mutation and is not inherited. People with progeria wrinkle and develop the same circulation and joint ailments as the elderly except most of them die by age 13. Research into the disease only offers clues on cellular function and how it affects human aging and other age related diseases''.
The cause
''A single letter in a progeria patient's genome is out of place. This genetic defect causes the child to accumulate too much of a toxic protein called progerin and the cells can't get rid of it. Progerin is seen in small amounts in healthy people's cells as they begin to age. The difference is that healthy cells can get rid of the damaged molecules and unneeded proteins''.
Some scientists hypothesize that the cell's inability to dispose of unnecessary protein as human's age is what could lead to severe illnesses. "This is a fundamentally important pathway by which cells maintain their own health," Dr. Collins said. "Yet as we age, we don't do it quite as well and the buildup starts to happen."
The Progeria Research Foundation, a nonprofit organization that supports affected families and promotes scientific research on the disease, supplies tissue and cell samples to try and find a cure for the disease. The foundation established a cell and tissue bank and started efforts to identify more progeria patients. It is involved in a different clinical trial involving a three drug cocktail to treat progeria.
It hasn't been easy trying to bring attention and resources to a rare disease, Dr. Leslie Gordon said. Patients with progeria are enthusiastic, precocious and embrace life, Dr. Collins said."They're taking what most of us look at as a really discouraging situation and saying, 'No, darn it. I'm going to make the most of it. If I have a shortened time being here, I'm not going to waste it feeling sorry for myself. "I'm going to make the most of it.'"
This disease is very unfortunate for those kids who got diagnosed with it. The Progeria Research Foundation would be grateful to those who would give money to help find a cure for this disease. You could be the difference in helping them find the cure for this terrible disease. Make a difference not only in your life but for many lives.
Comments
(4)
Subscribe to this comment's feed
Write comment